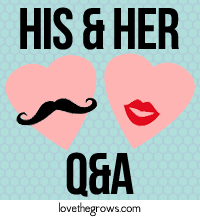 Time for this week's Q & A!
After filling this out, I'm curious, "What is the greatest Halloween costume you've ever had?" There are some really creative people out there! I'd love to hear what you dressed up as when you were young!
If a movie was made about your life, who would you want to play you?
Him: I'm sure at one point I would have said Jason Lee, Steve Martin, or Vince Vaughn, but at this point, I don't know. I guess I would lean toward Steve Martin based on the roles he currently does.
Her: Sandra Bullock. She's hilarious! I've seen Miss Congeniality like 5-6 times and it still cracks me up every time!
What is your favorite candy bar?
Him: Depends on my mood: Heath, Butterfinger, or Snickers. But overall I'm not huge on candy...
Her: So many good ones...I love Baby Ruth's. (Babe, I thought you were all about Peanut M&Ms? I'd count those as a candy bar since they are next to the candy bars in the stores.)
If you could redo anything about your wedding, what would you do differently?
Him: Relax and enjoy it more.
Her: Spend the extra money to hire a good photographer. Huge, huge mistake in hiring who we did. Some pictures were never taken. :(
What is the greatest Halloween costume you've ever had?
Him: Oh, I had so many good Halloween costumes that my mom made! The best one would probably either be...gosh, so many good ones...Captain America, Spiderman, Transformer, He-Man...but I guess the best one would be the Captain American one.
Her: I dressed up as a Blue Sky one year. I got the idea out of an American Girl Magazine.
What is your favorite type of food?
Him: I generally don't turn down any type of food. "Good." Is "Good Food" a category?
Her: Mexican is hand's down my favorite!
What is a sacrifice you've recently made for your better half?
Him: Walking to the back of the yard to dump the dirty water from our leak (as opposed to dumping it by the house) and not going out to eat as much.
Her: I miss eating out too. *sigh* So I guess I have to agree on that one. I try not to ask for take-out even though it would be nice after long days with the kids.
What music did you grow up on?
Him: I guess mostly pop music.
Her: Opera, classical (Dad and Mom are in the arts), soundtracks to musicals, Steve Green, Adventures in Odyssey Theme song. :)
What was your favorite wedding gift?
Him: The kitchen table.
Her: The kitchen table that my dad built for us! He made it before we had kids, but it's so large that it will easily sit all six of us, plus a friend for each kid someday.
Desert island- Only 5 people are there with you. Who would you want them to be?
Him: That's easy...my wife and four kids.
Her: Sean and our kids! :)
What is your favorite time of day?
Him: Dusk. It's cool watching the sun go down and the way the sky changes.
Her:
I love family time in the evening after dinner, but also the time between when the kids go down for the night and when we go to sleep. It's quiet and no one is climbing on me
!
Don't forget to leave a comment with your best Halloween costume! :-)